I intend to begin a series on prayer next week. One of my goals is to grow in a more consistent time of personal prayer. God has used several avenues to teach me about prayer over the last few weeks. I will share the bulk of what I've learned next week including: Prayer breathing, thresholds in prayer, praying scripture, and a review of Prayer on Fire by Fred A. Hartley III (which I'm excited to be able to giveaway to one reader!)
Today, I want to give glory to God for His answered prayer by telling you a story. I'll return tomorrow with my personal testimony and to answer any questions from my Break the Ice series.
I started this blog 22 days ago. I set up a Facebook page and a Twitter account, read Blogging with Amy's tutorial, and started blogging. In 22 days, I have met some pretty amazing people.
People that I consider to be "famous" in the blogging world have commented on my blog simply because I linked back to theirs. But they didn't just comment. They encouraged and one person even answered every single one of my 10 questions.
People replied to my tweets when I had questions, notified me when my blog was messed up, and gave me RTs TWICE because I forgot to include my link in the first one.
I began to realize there was more to the blogging world than simply good reads, tips for keeping house or raising kids, and free eBooks and printables.
There is relationship. Kindness. Friendship. Service.
I simply craved to be a deeper part of that world. I wanted to joke through tweets. I wanted a "tribe". But How?
Then a discovered Allume Social: a seeming common denominator between several of the bloggers I had interacted with and those I have followed for years before becoming a blogger myself.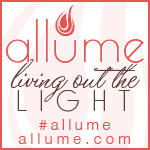 At Allume, I would not only have the opportunity to meet and get to know many wonderful bloggers, but I could also learn more and improve my blogging skills. I've told you before,
I'm an academic at heart
. When I do something, I want to jump in with both feet and do it wholly and completely right.
My heart sank when I realized it was in Pennsylvania–a $400 plane ticket away. Add to that the cost of the conference itself and hotel reservations, and attending the conference was simply impossible.
This is where my prayer life was challenged. Somewhere in my prayer journey, I was challenged to pray "God-sized" prayers. To pray for things that could only be credited to God.
I often found myself praying "safe" prayers. Things I knew (or assumed) were going to happen.
Attending Allume Social is a God-sized prayer. We absolutely do not have the money. I tried. I looked for it. I cried on the couch Monday night of this week after my husband finished allocating his tax season bonus money, and I realized with finality we absolutely did not have the money.
I could not manipulate this into happening.
I had to completely and solely trust God for it. I shared my desire with my husband Tuesday night, and I also shared with him my fear: What if I pray for this, trusting and believing, and God doesn't do it? What does that mean?
My kind-hearted husband looked at me and said, "It doesn't change anything. You're still a good blogger. It just means He has a different plan."
Isn't that true? Don't I know that? Believe that? I can pray big prayers and ask God to do abundantly more than I can ask or imagine, but if He says no to this particular thing, that doesn't change who He is! And it doesn't change how he feels about me.
You see, I think there was a part of me that thought, if God says no, then I'm not a good Christian. Or I am not praying correctly or hard enough or often enough. You see, I thought it was about me.
But it's not.
It's all about Him.
So I gave it to Him, trusting that if attending Allume Social was in His plan, He could and would make it happen.
Last night I attended a "Twitter party" hosted by Avodah Coffee and Sarah Mae (Host of Allume Social). They were giving away sample coffee, a year's supply of coffee, and a ticket to Allume Social.
As we tweeted and laughed during the party, I got more and more nervous. I was really praying for God to do something Big. It was getting close to 10:00, so I knew the grand prize was nearing. Here are my tweets:
Oh please, I'm jittery with excitement about the ticket! #allume #avodahcoffee
here we go!!! #avodahcoffee
y'all my heart is pounding! #avodahcoffee
Somewhere in the midst of me tweeting and trying to read the tweets on Tweetchat, my phone starts exploding. In about 5 seconds, my notifications were full of tweets mentioning @newlifesteward. Several said Congrats. I literally froze for a minute. Then found the tweet that said this:
The winner of the #Allume Social conference pass is…@newlifesteward!!!!!CONGRATS!!! #avodahcoffee

— Jessica Heights (@MutheringHeight) May 16, 2012
My hands were shaking so hard I could barely type out my response:
ARE YOU SERIOUS!?! #avodahcoffee
Praise the LORD! He is so good and faithful!! #avodahcoffee
Thank you #avodahcoffee There are not words! #avodahcoffee
I'm almost in tears. Seriously. #avodahcoffee
My God is so big, so strong and so mighty. There is nothing My God cannot do. #avodahcoffee
"Now to him who is able to do immeasurably more than all we ask or imagine, according to his power that is at work within us" Ephesians 3:20
I'm learning to pray big prayers that only God can answer. I'm rejoicing in His faithfulness to answer those prayers. I still have some work to do in order to get to Allume: plane tickets and a hotel room. But I know that God is faithful. I'm trusting Him.
Thank you so much to Avodah Coffee and all those at Allume for allowing the Lord to use you to provide this opportunity.
I do want to say that I know there are much bigger things out there in need of prayer than going to a Blogging/Social Media Conference. I'm simply relaying my personal story in what God is teaching me in this season of my life. I don't want to diminish in any way what other people are going through. My hope is to encourage you. If I can pray for you in any way, please leave a comment or send me an email (newlifesteward @ gmail . com)