Do you mind taking a minute for my quick, easy Reader Survey? Help me better serve you. Click Here.
I thought I would update you on a few of the things I've shared with you here at Work in Progress Wednesday.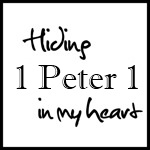 During our first ever WIP Wednesday, I talked about wanting to memorize Scripture more and mentioned joining up with the ladies at Do Not Depart for accountability. I have signed up to begin memorizing 1 Peter 1 with them next week!
Then I talked about finding rest and trusting God's plan–especially in regards to this blog. Let's just say that one is definitely still a work in progress. I find myself conflicted between wanting to improve at my craft to better serve the readers and the hidden motive of wanting to "improve" to increase the numbers. It's a daily battle.
Literally–daily, I tell myself, "The Lord has got this. Let it be." What is your it?<—Click to Tweet!
Next up was my vision for Tot School with Thomas. I did faithfully write my lesson plans, so that I have some to go from now for August. However, I realized I wrote out way more stuff than we are getting done. Partially because I just wrote too much and partially because I'm not making enough of an effort to do the activities. We've done well at reading our Bible story. What seems to work for us is reading during meal times. He will actually sit still and listen to the whole story!
I shared with you my desire to be mentored and call to mentor. I'm really excited to say that I am meeting my my mentee TODAY! I hope she is as excited as I am. I'm looking forward to seeing what God does with this relationship! This post really seemed to resonate with a lot of you–I'm wondering if any of you have stepped out as well. Leave a comment and let me know!
Writing mission statements was also a post that lots of people related to. I would love to read your mission statements if you've written them! Share in the comments or link-up to your page that shows your mission statement. I have yet to do anything towards getting our mission statements in print and posted–mostly because that requires funds that I don't have right now. I do have a lovely friend kindly offered to help me out with it once she gets her shop up and running.
The next post was just about feeling stuck and being tired. Some days are just like that, right?
Finally, last week I talked about really wanting to be more consistent on writing my eBook even if its just a couple of hours a week. I'm excited to say I wrote both Tuesday and Thursday last week for an hour each day. I feel better knowing I at least did something! I took some of y'all's suggestions too and have gotten some post-its to write down my ideas when they come to me and I can't write them out.
I hope this post wasn't too much of a bore. I wanted to let you know where I am though in working through some of the things I've shared.
Have you done something as a result of something you read on WIP Wednesday (either my posts or someone else's)? Please share in the comments!
Enjoy reading what God is doing in the lives of others? Subscribe for free and receive all the WIP Wednesday posts plus my other updates via email below or click here to subscribe via Reader!
 It's time for the WIP (Work in Progress) Wednesday Link-Up! 
This week's featured post: Sarah from Truth in the Journey Wrote: On the Source of Inspiration where she talks about our need for God's Word daily. Y'all know that's my kind of post!
What is God doing in your life? Link up a post below or let's chat in the comments! Please make sure you link back to newlifesteward.com! This helps promote the community and allows everyone's posts to be shared. 
 If you aren't sure how to do that, e-mail me! I'll be glad to help!
Link Up Rules:
Please link to the post's permalink so that it will go directly to the post you want us to read.
In the "Name" space, put the title of your post.
Limit 3 Links per week.
Please take time to visit the blogger before you and encourage them in their comments.
Use Hashtag #WIPwed when you tweet about your post!
One Post will be featured each week from the previous week's Linky!
Please link back to newlifesteward.com so your readers know where to find us! (Grab the button on the sidebar!)



If you are reading this via e-mail or Reader, click over to participate!
This post is linked with thanks to:
Works for Me Wednesday
iFellowship
Women in the Word Wednesday
Living Well Wednesday
Unwrapping His Promises
God Bumps and God-Incidences
Whatever Wednesday
Photo Source